NEW GENERATION EDUCATIONAL
BOARD GAMES
LEARNING TUBE, is a series of games 100% Greek,
which are here to teach us the world through creative playing.
PREMIUM GAMES
FOR PREMIUM BRAINS!
Made of great quality, rich content, with innovative cylinder packaging that makes it easy to carry everywhere, online game and most importantly with timeless educational value that comes from the knowledge it offers, which prepares the citizens of the world in the modern society.
THEY MAKE KNOWLEDGE
GAME FOR EVERYONE!
Playing Learning Tube is for everyone at every age.
The young and the elder come together and test their knowledge on some of the most interesting and timeless subjects ever chosen.
The first interactive educational game that everybody can actively take part and get substantial knowledge, useful in life!


Learning Tube is not just a game. It's a philosophy and an attitude for life, for people who want to develop, learn, interact, gain new experiences and be active members of a modern society!

Learning Tube provides the knowledge that makes us citizens of the World!
What makes LEARNING TUBE
so special?
The Learning Tube educational game series was created to offer knowledge through creative playing. The subjects, the content and the whole philosophy of the series are based on the concept that the game relates to everyone that participates, is fun, it's educating as well as entertaining.

Timeless Educational Value
All games of the series stand up for their timeless educational content and their endless value useful for all citizens of the world.

100% Hand Made Greek Games
Inspired, produced, printed in Greece! Assembled by hand by its own creators, packaged diligently with care.

Suggested for all ages!
They are the only board games offering equal educational value and aspiring active participation from all players, no matter the age.

Modern and Practical Packaging
The first and only knowledge board game in a cylinder shape. This innovation allows easy carry of the game everywhere at all times.

Online Platform
They are the only educational games that don't end when using all the cards. Unlimited cards and questions are renewed constantly online!
High Quality Materials
The production materials have been chosen carefully, so as to create a product of such great quality, as the priceless educational value they have .
Learning Tube Video Campaign
The New Video Campaign now on air at Youtube Learning Tube channel!


The main message of our campaign is that the Learning Tube gives an end at the SQUARE logic (way of thinking) and teaches us the world through a fun game.
Having Fun Together!

That's the moto of

K-TOYZ

, the invetors of

Learning Tube Concept!

K-TOYZ is a new Greek company in the field of producing and distributing board games. The popular RETRO board game, as well as the new relished Learning Tube, are our own brands, that have been inspired and designed 100% by the K-Toyz creative team.


Our activity, clean and clear, is to produce games that bring smiles. Games based on timeless ideas and have a unique identity. Games that are tempting in a creative way, distinguished for their quality and are addressed to all those who remain romantic and are looking for alternative ways of amusement and interaction with those they love.
All of these above are done in a modern version, from young people full of joy, who create, use knowledge, experiences and new technologies with love and passion for quality games which have come to offer new innovative, interactive choices that promote the traditional board games to a new level.
K-Toyz, is a company, that is made up of a group of young people that insists on Greek products, invests in creativity, innovates, develops and produces games that promote values, knowledge and experiences.
Our goal… is for each one of us to have the chance to experience joyful, creative moments with our kids, our parents, our friends, everyone that loves us.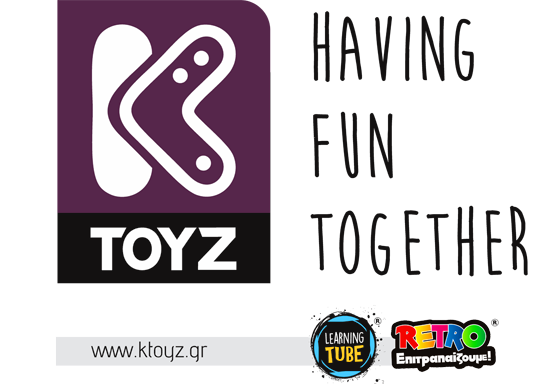 I WANT TO BE AN AUTHORIZED DISTRIBUTOR IN MY COUNTRY
No MOQ required | Low Trasportation Cost | Production in Greece
Learning Tube retail price is 19.99 euros per cylinder.

They are the only educational games that don't end when using all the cards. Unlimited cards and questions are renewed constantly online!

In K-Toyz our goal is to bring smiles!
At home, at the country house, with the grandparents, in the car, on the train, on the boat or the plane, wherever we are, with everyone we want, we spend our time in a creative way by playing the

Learning Tube!